Help on adding image codes for comments:
If you use photobucket or any other myspace type codes for images on comments just copy and paste the html code or the bbcode to the box (it may be called IMG code for bbcode as well)
-------------------------------------------------------------------------
We have provided you with hundreds of images and we will be adding more as we go. Here is the link:
http://s245.photobucket.com/albums/gg46 ... nityOasis/
Codes to use from photobucket images: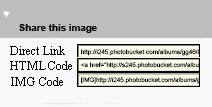 Direct Link:
Code - is used only for Backgrounds for
MCS pages only
HTML Code:
Code - is for
MCS pages only
only
IMG Code:
Code - is for comments and/or for posts or private messages
To place a background on your page:
Click on the Backgrounds Folder in photobucket and select the image you want and Copy the
Direct Link
code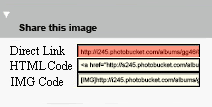 Click
MCS pages
and then add a page or edit an existing page.
Paste the code in the
Background Image:
Adjust the settings as you like
Background Color:
changes the color for the page behind your image
Feel free to use the images we have provided for you especially if you do not want to have to advertise for other sites
We have many folders that Lizzie added for us all:
Angels
Animated Animals
Backgrounds
Backgrounds2
Blessings
Butterflies
Christmas
Congratulations
Flowers
Friends
Get Well Soon
Good Morning
Happy Birthday
Happy New Year
Have a Good Day
Hello
Hugs
Images by Jesus_freak
Images by Paz.Amor.Musica
Jesus Christ
Love Ya
Misc. Animations
Miss You
Mothers Day
Oasis Comments
Prayers and Praise
Scriptures
Scripture Text
Slideshows
Smilies
Smilies 2
Smilies 3
Thanksgiving
Thank You
Valentines
Welcome
Thanks to Lizzie who took the time to upload and share these AWESOME images with us all to use

Although you can use whatever site you like, please remember that children may be viewing your profiles. Please do not post any unacceptable images on your site or they will be removed.