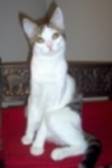 SHMOOPIE
Cutie


"Am I just the sweetest, most lovable cat?
Have you seen a face any cuter than that?
Gentle … forbearing … quick to agree -
Who else would fit that description…but me?
Good sense of humor? ... Of course, and much more…
Wit and intelligence…friends by the score!
I could go far with all of these traits,
but God looks at my heart, to see how I rate!"
May God grant you out of the rich treasury
of His glory to be strengthened in the inner man.
Ephesians 3:16