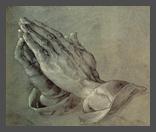 Worship

O, to be borne on angelsí wings
to realms of Godís pure light.
And there to worship Christ, the King -
My Savior ... and my Life.
Iíll leave the cares that bind me
to this earthly sphere below -
And enter Heavenís gates above,
to bask in His dear glow.
O, Jesus Christ, grow Thou in me.
and all things else recede;
My heart be daily nearer Thee -
from sin be daily freed.
Make this poor self grow less and less,
be Thou my life and aim;
O make me daily, through Thy grace,
more worthy of Thy Name.
Diane Adele Strong