DIANE'S POETRY

The Bethlehem Star

by Diane Adele Strong
DIANE'S POETRY
The Bethlehem Star
by Diane Adele Strong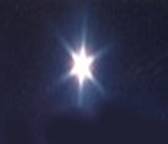 The Bethlehem Star
Star light, star bright,

see
the star that gleams tonight?
Star that shines o'er manger bed -
light that haloes His sweet head?
Shepherds heard the

angels

sing,
"Son of

God

... come ...

praise

the King."
The lamb remarked, "

Look

at Him there!
What

is

that

light

that shines so fair
around the bed on which he lay -
a manger crib, upon the hay?
Could it

be

... is

this

the One
who comes to earth as God's own

Son

?"
"Well, this I

know

," the cow replied,
"that

soon

, and when the time is

right

,
the Promised One will then appear
to bring salvation far and

near

.
But do you think that God would choose
to bring the world this blessed news

from
Bethlehem
, a winter's morn' -
and in

this

humble place be born?"
The donkey said, "From what

I've

heard,
it's written in God's

Holy Word

-
the

Child

, although from lowly birth,
will one day

reign

o'er

all

the earth.
I

do

believe He

is

the one -
the Savior of the

world

- God's

Son

!"
And as they wondered at the sight,


they

heard the angels sing that night,
"

Glory

to

God

for His

great

Gift -
let

all

mankind their praises lift.
And, peace on

earth

, good will toward

men

,
O little town of
Bethlehem
!
Diane Adele Strong
Return to Purity Publications Free Christian E-book Store
Click the link below to read more
C-O-O-L Christian Walk studies.

When you have finished this The Bethlehem Star free E-book, you can also check out some of the other Christian entertainment, games, music, books, mall, studies and programs within our Christian community below ...
C-O-O-L
CLICKS
CHRISTIANITY OASIS
CHRISTIAN COMMUNITY DIRECTORY
FRIENDSHIP, FAMILY, FELLOWSHIP AND FUN

SEARCH BY THAT WHICH YOU SEEK
BECOME A MEMBER
CHAT ROOMS
PARTNERS IN PRAYER
MY C-O-O-L SPACE
MESSAGE BOARDS
C-O-O-L
LOVE OFFERINGS
We hope you enjoyed this The Bethlehem Star E-book. If after sojourning through the Christianity Oasis community, you find our Ministry to be worthy and would like to make a Love Offering as to assure the Light of Hope continues to shine for the lost and hurting souls dwelling in darkness, thereby providing them with the opportunity to pursue the path of Christianity as well as provide a safe and enjoyable sanctuary for fellow Christians. Please choose to make a one time love offering securely by way of Paypal, credit card or debit card by clicking on the "Donate" button below.
If you prefer to pay by check or other source or if you have any questions, please contact us at:
webservant@ChristianityOasis.com
May God bless you abundantly for your LOVE.

CHRISTIANITY OASIS ON LINE
WHERE CHRISTIANITY IS C-O-O-L
E-mail: webservant@ChristianityOasis.com
This The Bethlehem Star E-book and all of its contents are copyright protected and should not be reproduced, copied or sold in whole or in part without express written permission from the author.
Copyright © 2000-2023 All Rights Reserved.
WEBSITE CREATED BY CHRISTIANITY OASIS